Central Indiana ends year with a 5.3 percent bump in December home sales
Central Indiana ends year with a 5.3 percent bump in December home sales
F.C. Tucker reports average year-to-date home prices continue to climb while inventory tightens
INDIANAPOLIS – F.C. Tucker Company's monthly real estate market stats indicated a strong finish to 2016, with home sales up 5.2 percent for the year and December 2016 sales up 5.3 percent compared to December 2015. Likewise, the average year-to-date home price for the 15-county Central Indiana region rose 3.4 percent to $188,616.
Home buyers were active in December, despite the weather, and contributed to 1,851 homes sold in Central Indiana, with Putnam and Decatur Counties showing the largest increase in the number of homes sold among the suburban counties. In December, 8 of the 15 counties that F.C. Tucker tracks experienced an increase in sales. Specifically:
Putnam and Decatur counties displayed significant growth in homes sold. Putnam County's sales increased by 81.3 percent in December 2016 compared to December 2015, and Decatur County's sales increased 75.0 percent.
Hancock and Jennings counties' pended sales, in contrast, decreased by 28.8 percent and 23.8 percent, respectively, compared to December 2015.
As in previous months this year, homes sold more quickly and for more money in December, signaling a strong seller's market.
The average year-to-date price in the 15-county region increased 3.4 percent, now at $188,616.
Boone County's average home price, at $290,725, remained the highest of all counties that F.C. Tucker monitors. Hamilton County's average home prices came in a close second at $288,336.
Consistent with November's trend, three counties showed a slight dip in average home prices. Putnam County's average home price dropped 6.6 percent, while Bartholomew and Jennings counties' average home prices declined 1.2 and 0.2 percent respectively.
Homes sold in 71 days on average. Johnson County homes were the fastest-selling in the market at 63 days. Homes in Hamilton and Hendricks counties, similarly, each sold in 65 days on average.
Listings dropped a significant 20.2 percent; 7,822 homes were on the market in December, a decrease of 1,979 homes.
Brown County's inventory dropped 41.5 percent, representing 71 fewer listings compared to December 2015.
Conversely, Jennings County had 20 additional listings in December, an increase of 48.8 percent.
"Positive consumer confidence has buoyed home sales through the end of 2016," said Jim Litten, CEO of F.C. Tucker Company. "Looking ahead to 2017, we expect to see 50 percent of the market made up of first-time homebuyers and anticipate many of the boomerang buyers, who lost their house in the Recession, will step back into home ownership."
Of the pended home sales in the region last month, one was priced above $2,000,000; nine were priced $1,000,000 to $1,999,999; 64 were priced $500,000 to $999,999; 197 were priced $300,000 to $499,999; 295 were priced $200,000 to $299,999; 769 were priced $100,000 to $199,999; and 516 were priced at $99,999 or less.
PENDED SINGLE-FAMILY AND CONDOMINIUM SALES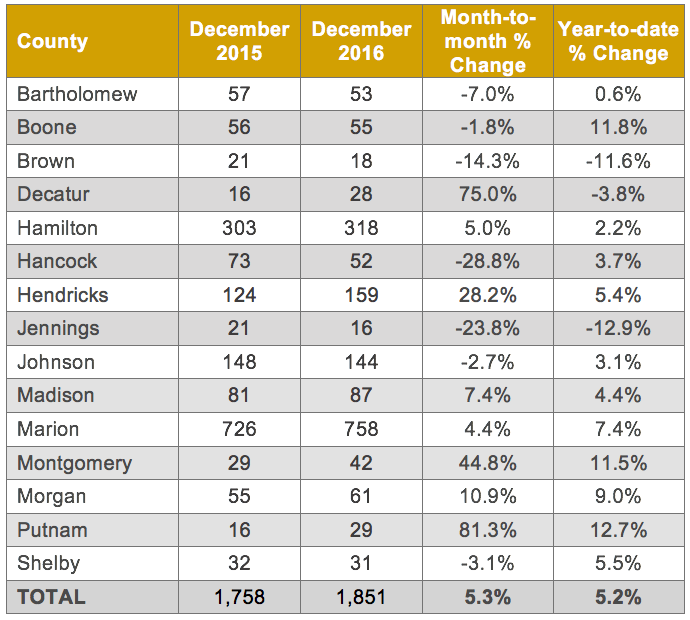 ACTIVE LISTINGS – INVENTORY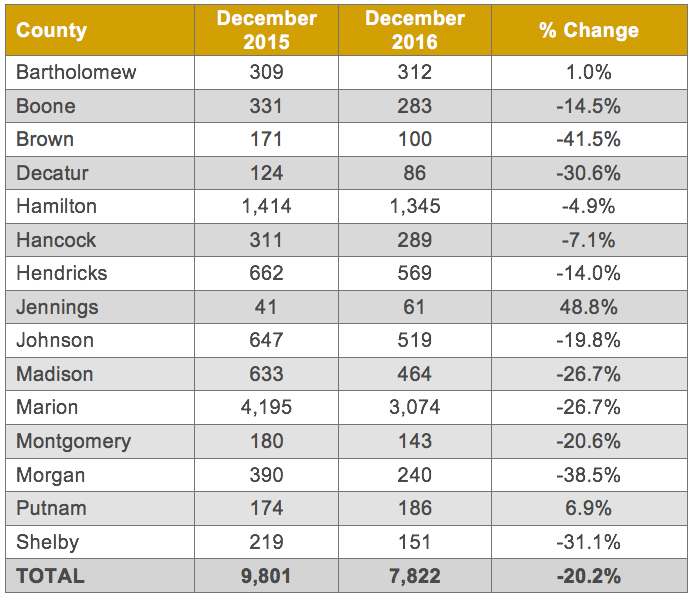 AVERAGE SALES PRICE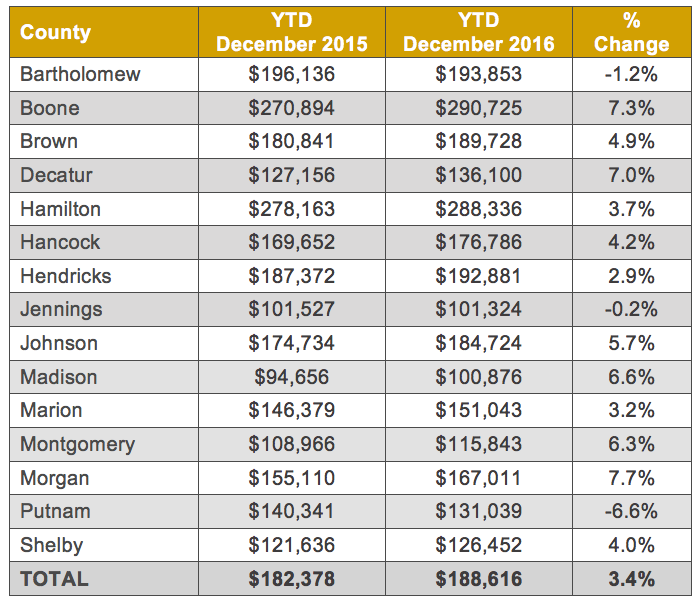 # # #
With approximately $3.7 billion in annual sales, F.C. Tucker Company is Indiana's largest independently owned comprehensive real estate firm with more than 40 offices and more than 1,500 sales associates throughout Indiana and select markets in Kentucky. Less than one percent of all real estate firms have the longevity of F.C. Tucker. Founded in 1918, the company's family of businesses includes a full range of real estate services—mortgages, title insurance, relocation services, a full line of insurance products, auctioning and homeowner warranty products. F.C. Tucker has earned a reputation for its exceptional service, experienced sales associates and "Golden Rule" commitment to its clients and employees.