Central Indiana home sales increase 7.4 percent in February
Central Indiana home sales increase 7.4 percent in February
F.C. Tucker reports average home prices continue to climb, time on market decreases
INDIANAPOLIS – F.C. Tucker Company's monthly real estate market stats indicated the housing market is still going strong. February 2017 pended sales were up 7.4 percent compared to February 2016. Similarly, the average year-to-date home price for the 15-county Central Indiana region rose 9.5 percent to $184,170.
Despite a dwindling number of houses for sale, home buyers were undaunted, purchasing 2,497 homes in Central Indiana last month, an increase from 2,324 homes sold in February 2016. The majority of the counties that F.C. Tucker tracks experienced an increase in sales. Specifically:
Putnam and Jennings counties showed significant growth in homes sold. Putnam County's sales increased by 63.6 percent in February 2017 compared to February 2016, and Jennings County's sales increased 57.1 percent.
Decatur and Madison counties' pended sales, in contrast, decreased by 21.7 percent and 9.6 percent, respectively, compared to February 2016.
In keeping with the previous month's trends, homes sold more quickly and for more money in February, signaling a strong seller's market.
The average year-to-date price in the 15-county region increased 9.5 percent, now at $184,170.
Boone County took back the rank of highest average home price at $296,912. Hamilton County came in a close second, however, at an average price of $290,765.
Worth noting, two counties showed dips in average home prices. Brown County's average home price dropped 15.7 percent, while Shelby County's average home price declined 5.9 percent.
Homes sold in 78 days on average, the same as last month. Jennings County homes remained the fastest-selling in the market at 57 days. Hendricks and Johnson counties both sold homes in 72 days on average. Hamilton County, similarly, was close behind at 73 days on average.
Listings dropped a significant 18.7 percent; 7,500 homes were on the market in February 2017, a decrease of 1,720 from the same time in 2016.
Putnam County's inventory dropped 27.9 percent, representing 53 fewer listings compared to February 2016.
Conversely, Jennings County alone noted an uptick in listings last month; the additional 22 homes on the market in February represented an increase of 64.7 percent.
"By all indications, consumer confidence is rising as people are more satisfied with the current state of their finances, said Jim Litten, CEO of F.C. Tucker Company. "This increased confidence typically leads to more spending on large items such as a home—good news for the central Indiana housing market!"
Of the pended home sales in the region last month, two were priced at $2,000,000 and above, 12 were priced $1,000,000 to $1,999,999; 83 were priced $500,000 to $999,999; 280 were priced $300,000 to $499,999; 421 were priced $200,000 to $299,999; 1,089 were priced $100,000 to $199,999; and 610 were priced at $99,999 or less.
PENDED SINGLE-FAMILY AND CONDOMINIUM SALES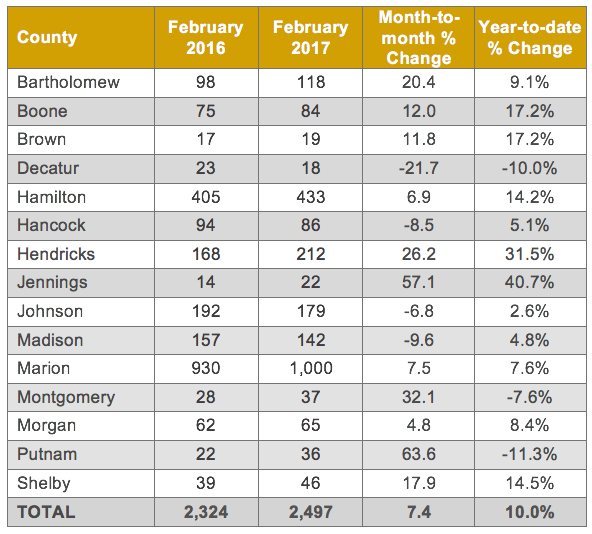 ACTIVE LISTINGS – INVENTORY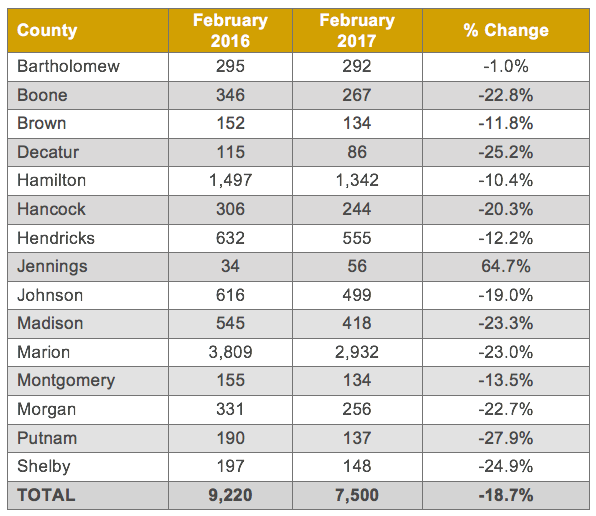 AVERAGE SALES PRICE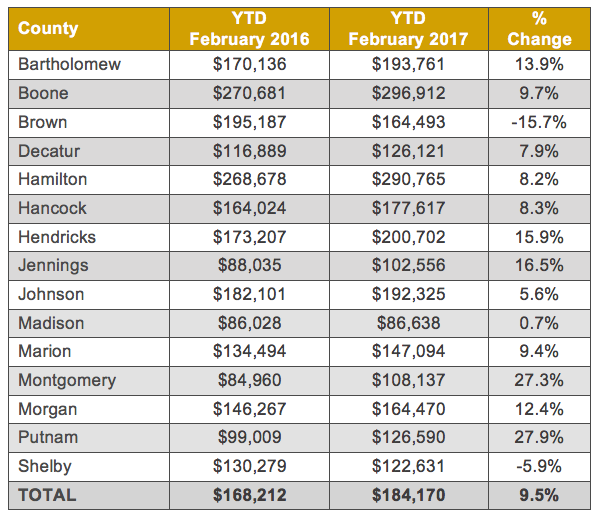 # # #
With approximately $3.7 billion in annual sales, F.C. Tucker Company is Indiana's largest independently owned comprehensive real estate firm with more than 40 offices and more than 1,500 sales associates throughout Indiana and select markets in Kentucky. Less than one percent of all real estate firms have the longevity of F.C. Tucker. Founded in 1918, the company's family of businesses includes a full range of real estate services—mortgages, title insurance, relocation services, a full line of insurance products, auctioning and homeowner warranty products. F.C. Tucker has earned a reputation for its exceptional service, experienced sales associates and "Golden Rule" commitment to its clients and employees.