The F.C. Tucker Scholarship:
Our Investment into the Future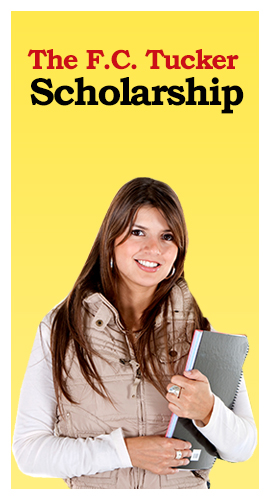 At this time, F.C. Tucker Company, Inc. is not offering a scholarship. The scholarship below lists the information for the 2014-2015 academic year.
It stands to reason that real estate professionals would be forward-looking people. We are intimately connected with the changing ways that people define themselves and live their lives. Our experience makes it easy for us to understand that the young—particularly those with ambition and drive—are the ones who will shape the new world. Creating an exciting new future isn't easy, but we're prepared to help.
F.C. Tucker Company, Inc. is committed to making investments into those who have the will and perseverance to succeed. As part of that commitment, F.C. Tucker Company, Inc. will be providing a scholarship in the amount of $1,500.00 to one qualifying student. It is our hope that this award will provide an opportunity that has the power to change one life, and eventually, the world.
All applicants should fill out the scholarship application below and include their full name and mailing address with their submission. The submission should include a personal statement, well as an essay on the following topic:
How would your completed degree help you make a contribution to keeping US businesses viable and competitive in a global economy?
The link at the bottom will take you to the application page.
Description of Funds
The recipient will receive a one-time $1,500.00 scholarship to be applied to qualified expenses, including graduate or undergraduate tuition, fees, books, and on-campus room and board for the 2014-2015 academic year. Funds are provided by F.C. Tucker Company, Inc. Payments are issued by F.C. Tucker Company, Inc., made payable to the student's approved college or university and mailed by July 18, 2014 directly to the accredited college or university designated by the applicant.
Conditions of Award
If any other funds pay entirely the tuition, fees, books, and on-campus room and board for the student's 2014-2015 academic year, the student is not eligible to receive this scholarship and must return the award to F.C. Tucker Company, Inc.
College/University Requirement
The institution must be accredited and listed on the official website of the U.S. Department of Education.
Responsibilities of Recipients
The recipient must be actively enrolled full-time as a first year, sophomore, junior, senior, or graduate student beginning with the Fall, 2014 semester and for the entire 2014-2015 academic year without interruption, barring illness, emergency, or military service. It is the recipient's responsibility to verify receipt of funds with their designated institution and notify F.C. Tucker Company, Inc. should the scholarship award not arrive on or about thirty (30) days from the issue date.
Permission
F.C. Tucker Company, Inc. reserves the right to alter or discontinue this program at any time without notice. All essay submissions and photographs become the property of F.C. Tucker Company, Inc. and may be reposted or displayed online, in whole or part, without notification.
Applicant Eligibility
Applicant must be a U.S. Citizen or Permanent Legal Resident of the United States. Employees and independent contractors or representatives of F.C. Tucker Company, Inc. or its related companies (and members of their immediate family and/or those living in the same household of each such person) are not eligible.
Applicants must be at least eighteen (18) years old, or otherwise have reached the age of majority under the laws of the state where you reside, in order to participate.
Void where prohibited.
There is no entry fee and no purchase is necessary to enter this scholarship competition.
Odds of winning are based on the total number of entrants. Only one winner will be selected from the entire pool of eligible entries.
F.C. Tucker Company, Inc. accepts no responsibility for entries not received for whatever reason.
The winner will be notified by email within thirty (30) days after the selection date. If the winner cannot be contacted or does not claim the scholarship within fourteen (14) days of notification, F.C. Tucker Company, Inc. reserves the right to withdraw the scholarship from the winner and select a replacement winner.
No cash alternative to the scholarship award will be offered. The scholarship award is not transferable.
The winner agrees to allow F.C. Tucker Company, Inc. to use his/her name and image in any publicity material.
Entry into the competition will be deemed as acceptance of these terms and conditions.
Winner Selection and Announcements
The scholarship winner is selected after a team of judges reviews all entries, after the scholarship entry deadline of May 30, 2014. Applicants are judged on creativity, thoughtfulness, and insight. The winner will be announced on or about June 30, 2014.