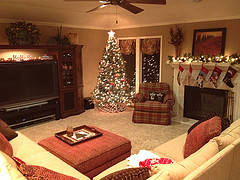 While many home sellers stall to list their home until the New Year, you can take advantage of the benefits of listing your Indianapolis home during the holidays. With reduced competition and motivated buyers in the market, you may just sell your home more quickly and at a higher sales prices. Consider these benefits to listing your home during the holidays.
1 – Reduced Competition
As people look to the New Year, many consider the timing for their next move. Whether it's to downsize, gain more space or relocate, any number of life changes or circumstances get people in the market to sell and buy a new home at the beginning of each year. Despite the extreme winter weather of January 2014, Indianapolis homes sales grabbed an increased 8.6% in home sales price over 2013.
Many sellers will hold out until January to list, which means your home will have reduced competition. But buyers are still looking throughout December. Less competitions means increased traffic of buyers viewing your home—online and in person.
2 – Serious Buyers
While you may see lighter traffic than other months of the year, be assured that the buyers viewing home are serious buyers. Often times, Indianapolis corporate relocations occur at the end of the year in preparation for the new job in the New Year. Families want to secure their home and enroll in schools over the holiday breaks. Tax benefits, divorce and growing families are just a few other reasons people may be in the market for a home during the holidays. These buyers are likely to be very motivated to get in the right home at the right time, which means they're likely to pay your right price.
3 – Seasonal Staging
Does your home ever feel a bit empty after you take down your holiday decorations? There's something special about about extra cheer added to a home throughout the holiday season. Lights, candles, garland, wreaths and baked cookies…all make up the warm feeling of walking into a home during the holidays. And that cheer resonates with homebuyers, too. Also, you likely tend to keep your a bit more tidy this time of year. It's a perfect time to invite visitors and serious buyers into your home.
To learn more about the benefits of listing your home during the holidays, be sure to contact a licensed real estate professional. I've sold Indianapolis real estate through 11 years of holidays. I can give you a clear picture of what to expect when you list your home.
By Ted O'Donnell, talktotucker.com/ted.odonnell