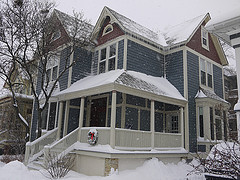 After the extreme weather of last winter, Indianapolis homeowners brace for what's likely to be another snowy and icy season. The winter elements can be tough on homes, driveways and sidewalks. Before the snow and low temps hit, it's prime time to prepare and protect your home.
It is estimated that the brutal winter last year precipitated hundreds of millions of dollars in Indianapolis home damages, according to WTHR. Much of the damage revealed itself as icy homes, plumbing and foundations thawed, similar to how potholes rear their ugly heads. The extreme temperatures cause expansion and contraction of siding, framing, foundations and roof trusses. Come spring, more damages can be seen and heard throughout the home.
The effects of ice dams, where melting ice gets under roof shingles and freezes again, is one of the most common and costly ways that winter damages ensue. The sitting moisture for ice dams eventually can cause leaks in the roof, which in turn leads to further damage to ceilings, walls, insulation, flooring and more.
Regular roof inspections can be the best way to prevent ice dams from occurring. Since we have yet to have a real snowfall or see frigid temps, it's not too late to get your roof inspected.
Here are some other tips to prevent melting ice damage to your home:
Clean out gutters and downspouts. You probably did that before hanging your holiday lights, right?!

Repair and seal any cracked concrete around the home.

Trim trees and branches that may weigh heavy from snow and ice, which could break off and pose a threat to your home.

Keep your home at 65-degrees or higher to prevent pipes from freezing.

Consider a home inspection to check your HVAC, roof and plumbing.
I have experience with many insurance agents, inspectors and service providers in Indianapolis and would be happy to refer a trusted partner to help protect your home. Give me a call anytime!
By Ted O'Donnell, talktotucker.com/ted.odonnell