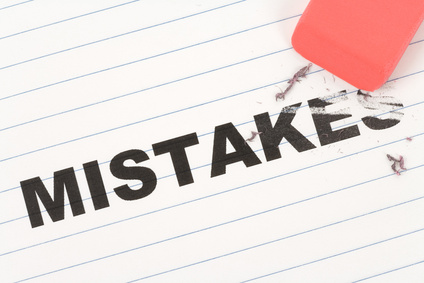 1. Making an offer without being prequalified. It is even better to be preapproved! A preapproval will put you forward as a qualified buyer, giving you a better chance to reach an accepted offer with the seller. Take the time to speak with a lender. Their specific questions about income, debt, savings, etc will help determine a price range you can afford. Your credit will also help determine what loans you are elligible and there are some homes that cannot qualify for certain programs.
2. Limiting your search to Open Houses, ads and Internet Searches. Many homes listed on the Internet and in magazines have already sold or have accepted offers. It is in your best interest to contact a Realtor. They have up-to-date information and details that may not be available to the general public. They are the best source to help you find the home you want!
3. Choosing a Realtor who is not committed to forming a strong business relationship with you. Making a connection with the right Realtor is crucial. Choose a professional who is dedicated to serving your needs. Choose a Realtor that is in the business FULL-time.
4. Not considering long term needs. Generally speaking, when purchasing a home, it is better financially to plan on living there for a minimum of 3 years. It is important to look ahead 3-5 years to think if it will suit your needs at that time. And if you are transient and don't see yourself staying somewhere for more than 2 years, it might not even be in your best interest to purchase a home. And don't forget to consider resale potential of the home!
5. Not following through on due diligence. Buyers should make a list of any potential concerns they have relating to issues such as: crime rates, school systems, neighbors, planned developments in the area, power lines, well and septic, flood zones, comparable sales, mechanicals age, utility averages, etc. Ask important questions before making the offer. Doing your due diligence ahead of time will help make you feel more secure and protect you from buyer's remorse!
6. Thinking there is only one perfect home out there for you. Homes will come on the market daily, so it is good to be open to possibilities if you aren't finding exactly what you were looking for. I like to ask my buyers to look for the homes that fit the 80/10/10 rule. 80% is what you want, 10% you could change & 10% you can live with. And sometimes as you move through the process, you will discover that what you thought you wanted, isn't really what you want! A good Realtor will help uncover this too. 🙂
7. Not having a home inspection. Trying to save money today can end up costing you tomorrow! A qualified home inspector will help to uncover potential defects, repairs and maintenance items that may not be obvious.
8. Not knowing total costs involved. Early in the process, ask your Realtor or lender for an estimate of closing costs. There are many other factors to keep in mind too aside from the mortgage closing costs. There are items that have to be prepaid like home owners insurance and home owners association fees.
By Sarah ODonnell, talktotucker.com/sarah.odonnell